WealthTrack Episodes
Consuelo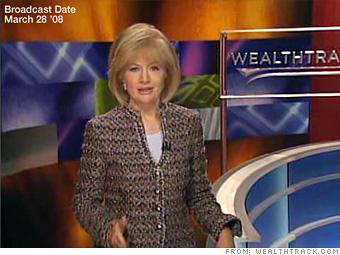 Mack, The host of WealthTrack (PBS),
Mack lacks the big personality style of a Jim Cramer or a Suze Orman, but that suits her show perfectly - substance. Cramer may entertain, but Consuelo Mack invites the best minds in money to sit down and share their collective wisdom.

WealthTrack believes that the key to successful long-term investing is diversification and intelligent asset allocation. The goal is to help viewers build and protect their wealth and all of the investments they care about: financial, real estate, art, and collectibles. Take advantage of these informative discussions with seasoned professionals.
Please click on WATCH NOW… to view episodes (there may be a short sponsor note at start).
The information being provided is strictly as a courtesy. When you click on a link you are leaving this site and assume total responsibility and risk for your use of the sites you are linking to. Our company makes no representation as to the completeness or accuracy of information provided at these sites. Nor is the company liable for any direct or indirect technical or system issues or any consequences arising out of your access to or your use of third-party technologies, sites, information, or programs made available through this site.
.
------------------------------------------------------------------------------------------------------------------------------------------------------------------------------------------------------